Custom Engraving Available from
First Quality Music
First Quality Music is now offering custom engraving. In past months, if you visited their shop in Louisville, or you visited their booth at IBMA, you would have noticed some really interesting custom engraving work on display.

They currently are doing custom engraving on tailpieces, armrests, stretcher bands, resonator flanges and tone rings. They can probably do it on other metal surfaces as well. This is all done with a CNC machine. And the work is flawless.

To give you an example or two, I have posted the folllowing photos. The first is a photo of a tailpiece they engraved for my Granada DeLuxe. This is their new "coffin style" tailpiece. This is not actually the correct tailpiece for the Granada. But I like the way it looks, and it doesn't seem out of place on this banjo.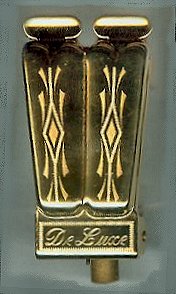 Then, right after SPBGMA, I got an armrest in the mail. The photos do not do it justice. A shiny armrest is not easy to photograph! I ended up scanning it. When I was scanning the leg of the armrest, the ends of the armrest kind of disappeared in the scanner. There are some dust artifacts on the armrest also. This has to do with the scanner. The fault does not lie with First Quality.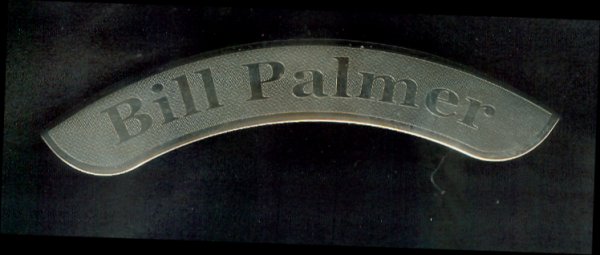 They have a number of proprietary designs as well. The work they are doing is truly fine, and the prices are reasonable.
Go back to Banjo Setup
Go back to My Music


©2006 Bill Palmer. All rights reserved. For permission to republish contact Bill Palmer. The opinions expressed on this page are strictly Bill Palmer's. Mastertone, Stelling and the other brand and model names are the property of the manufacturers and other people who own them.